OH MY WOW!  It is 2:30 PM and I just realized it is Monday!!!  Wow, the holidays sure have thrown me off.  I cannot believe I have missed half of Savvy HomeMade Monday.  I am so sorry, Everyone!  Savvy HomeMade MONDAY normally starts on Sunday because I can hardly wait to see what you all have been up to.  I assure you I am just as excited as ever to see your posts, but just thought tomorrow was the day I would get to do so.  Ha ha.  I apologize, Everyone!  I hope your holiday season has been as full of friends and family as mine has been… so much fun I cannot remember what day of the week it is.  🙂
Now for a QUICK recap of last week's most popular posts…
The Kitchen is My Playground shared a recap of her Top 10 Posts of 2011 and they are all amazing!  I lead with her Margarita Cupcakes because they are at the top of my dessert Pinboard to try!  You must also check out her amazing Confetti Cake Balls which were her top post of the year.  I am going to make you visit her for that treat!  🙂
Nifty Thrifty Things shared her German Eierlikor or eggnog.  It sounds scrumptious and I just LOOOOOOVE her presentation.  I would like all three please.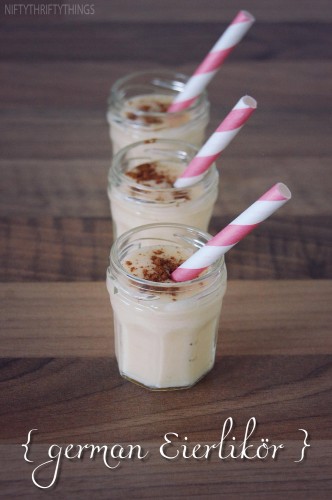 Dream It… Build It… Style It! shared one of the most fabulous holiday repurpose ideas I have ever seen:  Holiday Trees from BUBBLE wrap (and several other fabulous ideas as well)!  WOW!
It doesn't get much cuter (or more festive) than this Rudolph and Friends post from The Seven Year Cottage.  These are adorable and are absolutely on my Pin Board for next year's holiday party with homemade icecream!
I may not be able to pull these Winter Ice Candles off very often in Texas, but that doesn't mean I cannot OOOO and Ahhhhh over them at Elizabeth & Co.  Check these out.  Gorgeous!
I love all these ideas and look forward to more today!  Thank you so much for stopping by and I am sorry for my holiday brain today!
The rules for linking up are the same as always.
 Please become a follower of Home Savvy via GFC in the sidebar.  (Sometimes GFC is moody and doesn't appear.  If you refresh the screen it should pop up.)
It isn't mandatory, but if you Facebook, I would love for you to "like" Home Savvy on FB by clicking here.  If you have a blog of your own, please leave a comment on my Facebook wall so I can visit you too!
Any (appropriate) idea goes in my book.  Crafting, restoration, recipes, tutorials, need to knows… if it is a post you are proud of, please share!
Please link back to HomeSavvyAtoZ.com on your post or site (find a button here or url, whatever you prefer).  This will help spread the word about Savvy HomeMade Monday.  The more the merrier right?!?
Visit some of your fellow party goers and share the blog love!